Clayton City Council
The City Council is the elected policy-making body for the City of Clayton. It is comprised of five members elected at-large who serve four-year overlapping terms. The Mayor is selected annually by the City Council from among its members. The City Council serves as the Board of Directors for the Redevelopment Agency, the Clayton Financing Authority and the Geological Hazard Abatement District. Council members represent the City on the governing boards of numerous Joint Powers Authorities.
City Council meetings are held at 7:00 p.m. the first and third Tuesdays of each month in Hoyer Hall, Clayton Community Library, 6125 Clayton Road. City Council meetings are played back on Comcast Channel 27 on Thursdays at 7:00 p.m. and Saturdays at Noon following the City Council meetings.
You may contact the City Council through e-mail (just click on their name); voice mail or by mailing correspondence to City Hall, 6000 Heritage Trail, Clayton, CA  94517.
To set up an appointment contact the City Clerk, Janet Brown, at (925) 673-7304.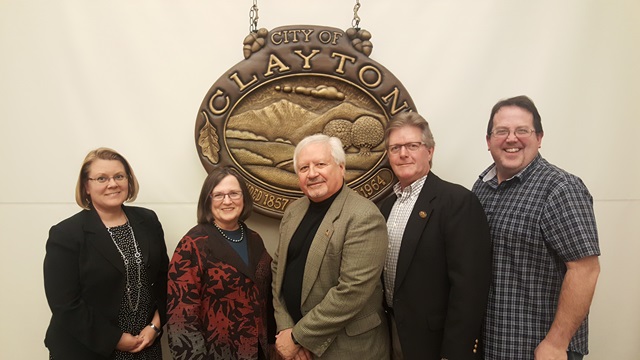 | | | | |
| --- | --- | --- | --- |
|   Jim Diaz | Mayor | (Term expires Nov 2020) | VM (925) 673-7316 |
| Keith Haydon | Vice Mayor | (Term expires Nov 2018) | VM (925) 673-7318 |
|  Tuija Catalano | Councilmember | (Term expires Nov 2020) | VM (925) 673-7321 |
|  Julie K Pierce | Councilmember | (Term expires Nov 2020) | VM (925) 673-7320 |
| David T. Shuey | Councilmember | (Term expires Nov 2018) | VM (925) 673-7317 |
The City Council appreciates hearing from citizens. Thank you in advance for your comment and concern.
When you email the City Council, under California law your email constitutes a public record.  Unless you wish others to potentially obtain private information about you, please do not include any private information in your correspondence to the City Council that you do not wish revealed to the general public (such as your phone number, home address, or minor children's names).  However, in order for the City Council or City staff to respond to your interest or concern, you must include sufficient information for us to reply or contact you.